Professional snake control help
in this extensive website you will find information on types of snakes, ways to control snakes, snake food sources and ways to identify each particular type of snake.
There will also be some direct links for geographically specific areas that are serviced by our company and phone numbers for other companies that service a specific area.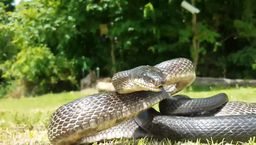 Snake control is a very specialized service and not many companies are qualified to execute this type of service at your home or business.  You should always check the credentials of any company that is going to come into your home to execute such service, first make sure they are licensed by the state that you are living in to do wildlife removal services.
Next you should be sure that they are licensed and insured to perform any type of pest control work, because ALL Snake control services start with a very In depth pest control service.  This is not your ordinary pest control service, this is a specially designed snake control program that is exclusively designed around the direct food source the snakes are getting from your home or business.
We use an old saying  "the fat man does not live far from the grocery store"
in snake terminology this means that a snake is not living very far from its food source.
Half of controlling any viable snake population is controlling the food source in which it preys upon.
We have several different programs in which you can choose.